1870 SOCK BALL PHOTO
John Johnston has presented to THE ERA a very interesting photographic picture of a scene in Bradford 30 years ago. The picture is that of a game of "sock ball" played between rival teams from Limestone and the West Branch. In those days "a tick and ketch" would "always fetch," and the runner between bases was put out by being hit by pitched balls from the field. The ball used was a soft affair, fortunately, and there were but few injuries sustained in the game. The view was taken from the site now occupied by the St. James Hotel (1). Across the way a glimpse is shown of the old Bradford House. Small wooden buildings appear along the shaded street below Pine. The scene would never be recognized by any person who was not in Bradford prior to the oil developments that built up and transformed a village into a lively little city. In the picture are the figures of men who have long since been "put out" of the game of life, in different ways, and others are there who have since become proud and prominent. One of the figures, seated on a large wooden box, is that of the late Polk Abbott. Hon. Loyal Ward is there too, looking at the game from afar. A stalwart backwoods dandy poses in the foreground attired in a heavy, checked woolen shirt, slouch hat, etc., who is said to be one of Bradford's solid business men; but as he desired the fact to be suppressed that he "ever looked like that" his name is not given.

Source: The Bradford (Pa.) Era, Tuesday, March 20, 1900, pg. 4

(1) The St. James Hotel was razed and replaced by the Emery Hotel which opened on February 22, 1929. The Emery Hotel was built by Grace Emery in honor or her father, Senator Lewis Emery, Jr. Today (2021) the structure serves as senior housing and is renamed ''Emery Towers''.
---
---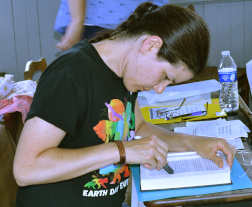 CREATIVE WOMEN WORKSHOP

It's that time again. This year's workshops will be held on Saturday. September 17th, down at the Crook Farm. We have some exciting crafts to offer this year and hope you'll join us.

The Creative Women Workshops are great to do with a sister, group of friends or relatives, and we make every effort to place friends and family together if they want to take the same classes. More fun that way!

The registration fee is the same as last year, $42, and you can pay ahead of time, or when you arrive at the farm on the 17th.

As always, all materials are provided free of charge, and this year, we are changing things up a little in regards to lunch - we'll have delicious hamburgers, pasta salad, homemade cookies, and assorted chips. And bottled water of course! and if you are a vegan be sure to tell us ahead of time and we'll make special lunchtime arrangements for you. Both Sally's daughters are vegans, so she know how hard it can be sometimes to find vegan food.

Plan on coming.

Here's the registration form.

Deadline for making reservations is Friday, September 9, 2022
---
---