Page for 2017 Fair, Archive Here ~Note Made 1/27/2018



THE 38th ANNUAL CROOK FARM FAIR
Another Fair has come and gone. We'd like to take this opportunity to thank each and every one who came out to support our biggest fundraising event. We hope you had a wonderful time and enjoyed the demonstrations, the vendors, the musicians, the food - everything! We enjoyed seeing and talking with everyone. Please save room on your 2018 calendar for next year's Fair.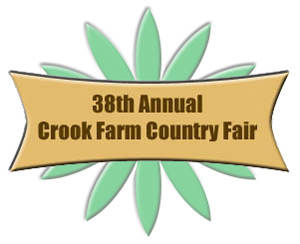 Dates: Saturday, August 26th and Sunday, August 27th, 2017. Musicians will be on-site Thursday, the 24th and Friday, the 25th
Location: 476 Seaward Ave, Bradford, PA 16701
Time: 10:00 am to 5:00 pm
Cost: $5.00 per person, Children under 12 Free

LOOK FOR THE CROOK FARM BAKED FOOD SALE BOOTH AND OTHER FOOD OFFERINGS BY AREA NON-PROFIT ORGANIZATIONS.
---
CROOK FARM VENDORS
A1 Don & Jackie Gardner - dulcimers & banjos
A2 Civil War Ladies
A3 Preston and Sons - Broom Making
A4 4 Loops Popcorn – small and large bags of kettle corn
A5 Bob's Wood Shop – bird feeders, holiday decor items, game, and bird houses
A6 Medicare Specialist/Ashley Hatch with the Williams Agency
A7 Perfectly Posh by Lindsay Grandinetti
A8 The Fran Charles Shop – scarves, jewelry, focus jackets (depending on daily temperature)

B1 Jeremiah & Darian – dried leaves painted using coffee, framed rocks, and painted bark
B2 T & E Lemonade – Lemonade of all flavors, strawberry, blueberry, mango, pineapple, and raspberry. Sugar Free available
B3 Karl Fitzsimmons- wood cutting boards, quilt racks, storage boxes, wine racks, jewelry boxes, & more
B4 Alexis Olsen – homemade soaps & bath bombs

C1 Judy Gates – crocheted items, towels, potholders, blankets and various cross stitch items
C2 Burnt Label Farm – goat milk soap, bath bombs, lotions & scrubs
C3 Barb Houwer – recycled sweaters sewn into bags, totes, trivets, & children wooden construction set
C4 Young Living Essential oils by Christine Haugh
C5 J & J Enterprises – Nature engineered products, brass sleigh bells on leather straps, jewelry and home décor items

D1 Gourmet Creations by Kim – veggie, fruit and oil dips. Pickle mixes.
D2 Premier Jewelry by Launa Wertz
D3 Mel & Denise Dibble – handcrafted soap, body butters, body & lip balms, herbs, and other plants
D4 Clover Moon Designs – painted whimsical canvas, cards, and jewelry
D5 Happy Hoops – handmade hula hoops for adults, children, and for fitness

E1 Avon by Penny Updegrove
E2 Scentsy by Erin Black – wax bars, wickless warmers, stuffed animals, room sprays, counter clean, etc.
E3 Norwex by Kaitlyn Walter – microfiber cloths, towels, laundry detergent and other cleaning products
E4 Kami Keyes & Robin Ackler – repurposed glass, glass gypsy gals, paper bead jewelry
E5 Melissa McGuire – photographs & note cards

F1 Tupperware by Margie Harris
F2 Hippysac – Cotton-reversible hip bags
F3 Lilla Rose by Susan Thompson – hair accessories, clips, hairbands, bobby pins, u pins, and badge holders
F4 Mary Kay by Karen Colley
F5 Cricket – cell phones, plans, and accessories

G1 Penn Brad Oil Museum (not able to participate due to unforeseen circumstances)
G2 Case Cutlery

H1 Harold Stark – wood crafts, pictures, furniture tins
H2 Brz Designs – Rustic wood Items and more
H3 Bradford Landmark Society

OS1 Noelle Lindner – primitives, wood crafts, wood flowers, wreaths, & wood signs
OS2 Connie's Creations – Paintings on canvas, slate, wood, and concrete pavers, pillows and table runners
OS3 Alpaca Creations – Hand knit Alpaca apparel, natural & dyed yarn, hats, scarves, socks, mittens, and dryer balls
OS4 Jill Phillips – handmade maple & black walnut baskets, crocheted items, and wood items
OS5 Daisy Designs – quilted table runners, purses, potholders, candle mats, eyeglass cases & photographs
OS6 Dennis Moore – Wood chairs, glass show cases, toys, plant stands, tables, bread boxes, & bird houses
OS7 Patti Coleman – pillows
OS8 Geri Schillinger – jam, pickles, and hot mustard
OS9 Laura Blake – refurbished furniture
OS10 Tastefully Simple by Robbie Yonushonis
OS11 LulaRoe by Jen Kittell – womens clothing
OS12 Alpacas
OS13 Pampered Chef by Cindy Buchanan
OS14 Gold Canyon Candles by Cindy Buchanan
OS15 Marilyn Burgoon – doll clothes, accessories, and wreaths
OS16 Overhead Doors – James Ingerson
OS17 Direct TV with Brandon Whittemore
Red Roof Produce will be located near the "OS" vendors
---
MUSICIANS
MAIN STAGE
Saturday, August 26th
10:30 to 12:00
12:00 to 12:40 Egypt Hollow
12:45 to 1:35 WNY Fiddle Kids
1:45 to 2:30 Harmonic Vines
2:30 to 3:15 Brett Howland
3:15 to 3:55 Hooligans
4:00 to 5:00 Uncle Joe & Rosebud Ramblers

Sunday, August 27th
10:30 to 12:00 GOSPEL SING AROUND
12:00 to 12:40 Versatility
12:45 to 1:35 The McKenzies
1:45 to 2:30 Enchanted Mtn String Band
2:30 to 3:15 Blue Mule Bluegrass
3:15 to 3:55 Keep off the Grass
4:00 to 5:00 Hamlin Station

WORKSHOPS
Saturday, August 26th
12:00 Instant Musician w/Gayle & Larry-all levels
1:00 UKE Workshop-Drew Danielson-all levels
2:00 Clawhammer Banjo-beyond basics w/Uncle Joe
3:00 Tenor Banjo w/Werner Ceusters
4:00

Sunday, August 27th
12:00
1:00 UKE Workshop-Drew Danielson-all levels
2:00
3:00 Clawhammer Banjo Basics-Scott Sheeser
4:00

Download the Musician's Flyer

Download the complete write up
here for more information, including musician biographies. (PDF Format)
Musicians will be on site on Thursday, August 24th and Friday, August 25th, as well.
---
~Updated August 25, 2017