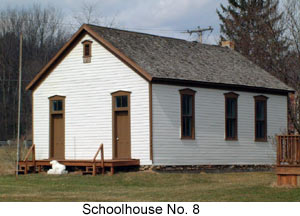 Crook Farm School Program

School House No. 8 was probably built around 1850 (some say 1889) at West Corydon Street Extension near Crooker House Lane, primarily for the children of workers employed by the expanding wood chemical works located in the Glendorn area. It served as a schoolhouse until 1929 when several schools were consolidated and the West Branch School (now demolished) was built.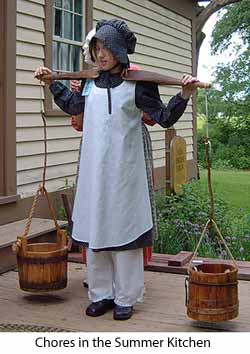 In 1975, the building was donated to the Society by Mrs. Robert Purtle, cut in half and moved to its present site on the Farm. It was extensively restored by the Society between 1977 and 1979.
The twenty-some desks and the blackboard, originally used in the Sartwell School, were donated by Mrs. Eleanor Hand in 1978.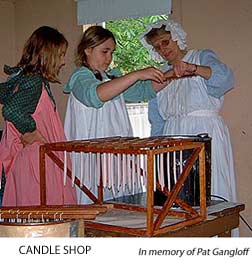 Every spring fourth and fifth grade students from northwestern Pennsylvania and nearby New York, many of whom come dressed in home-made period clothes, experience a unique, historical education in the School House as part of a Society-sponsored day program at the Farm. Students participate in spelling bees, math lessons, and practice writing skills with pen and ink, instructed by teachers using 1880s methods, and dressed in period clothing. A trip through the farmhouse, carpenter shop, craft barn and candle shop complete the program. Each stop offers a hands-on lesson such as laundering clothes in wash tubs, pressing fabric with irons heated on a wood-burning stove, dipping candles, working with hand tools and weaving on a loom.
Our experience is that the school program is best suited for fourth, fifth, and sixth grade students, but not for kindergarten, first, second or third grades.
crookfarmschool@bradfordlandmark.org
Schoolhouse photo courtesy Nick Distrola