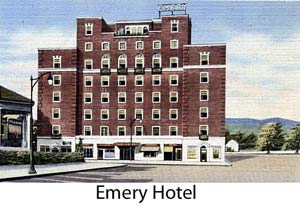 The History of The Emery Hotel

Bradford residents have many fond memories of the Emery Hotel. Located at the very head of Main Street, its imposing structure has looked down on Main Street for over 75 years. Grace Emery as a memorial built this hotel in 1929 to her late father, Lewis Emery, Jr., and his fantastic and exciting career in the early pioneer days when the Bradford area, along with the rest of the nation, was "growing up".
Senator Lewis Emery was a pioneer in Bradford. Attracted to the Bradford oil fields in the early 1870s, he leased 14,000 acres of land; and soon young Emery had nearly 500 oil wells and was wealthy. In 1878, he entered politics and was elected a Pennsylvania State Senator.
Later, he ventured in oil refining and founded L. Emery Jr. and Company. Mr. Emery and a group of investors organized the United States Pipe Line Co. to transport oil to the Atlantic seaboard. Lewis Emery, Jr. died in 1924.
On February 22, 1929, the Emery Hotel opened its doors. The invited guest list was a Who's Who of the Bradford area. Over three hundred guests were invited. The host was Miss Grace Emery.
Four Canadians were first to register, even before the hotel was opened for use of the public. Finding the hotel not yet opened, they inquired of a workman if it were possible to stay the night. Their request was referred to Miss Emery, and she gave them permission to spend the night. The hotel owner framed the money spent for the nights lodging.
The hotel is seven stories high and has 107 rooms. The brick used in the hotel was a local product manufactured by Hanley Brick Company. At the time of the opening, it provided employment to 61 people.
In 1964, the big electric sign atop the Emery Hotel, which proudly proclaimed the name of one of Pennsylvania's finest hotels for 35 years, was dimmed forever. The hotel passed into history and became a dormitory for the University of Pittsburgh at Bradford. The name Emery continued to be used by the University for its new dormitory.
In 1983, the building became Emery Towers, a 101-unit apartment complex for the elderly. Today it still stands at the head of Main Street, a watchful reminder of the days when Bradford was in its heyday.