1870 SOCK BALL PHOTO
John Johnston has presented to THE ERA a very interesting photographic picture of a scene in Bradford 30 years ago. The picture is that of a game of "sock ball" played between rival teams from Limestone and the West Branch. In those days "a tick and ketch" would "always fetch," and the runner between bases was put out by being hit by pitched balls from the field. The ball used was a soft affair, fortunately, and there were but few injuries sustained in the game. The view was taken from the site now occupied by the St. James Hotel (1). Across the way a glimpse is shown of the old Bradford House. Small wooden buildings appear along the shaded street below Pine. The scene would never be recognized by any person who was not in Bradford prior to the oil developments that built up and transformed a village into a lively little city. In the picture are the figures of men who have long since been "put out" of the game of life, in different ways, and others are there who have since become proud and prominent. One of the figures, seated on a large wooden box, is that of the late Polk Abbott. Hon. Loyal Ward is there too, looking at the game from afar. A stalwart backwoods dandy poses in the foreground attired in a heavy, checked woolen shirt, slouch hat, etc., who is said to be one of Bradford's solid business men; but as he desired the fact to be suppressed that he "ever looked like that" his name is not given.

Source: The Bradford (Pa.) Era, Tuesday, March 20, 1900, pg. 4

(1) The St. James Hotel was razed and replaced by the Emery Hotel which opened on February 22, 1929. The Emery Hotel was built by Grace Emery in honor or her father, Senator Lewis Emery, Jr. Today (2021) the structure serves as senior housing and is renamed ''Emery Towers''.
---
---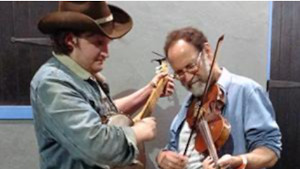 Ken Waldman & The Wild Ones
A McKean County Roots Music Experience
When: Sunday, March 27, 2022
Time: 3pm (for the Concert)
Where: Bromeley Family Theater at Univ. Pitt-Bradford, 300 Campus Drive, Bradford, PA 16701
Cost: General Admission is $10, all students admitted free.


Purchase tickets at the box office or on-line.

Note: PROTECT AND BE CONSIDERATE OF OTHERS. BE VACCINATED, BOOSTED AND MASKED (OR STAY HOME).

Various Americana songs featuring Ken Waldman, Willi Carlisle, Snappin Bug String Band and The Early Mays.

For the full-color flyer please Download here.
---
After the concert around 5:30 pm:
Jam & Pizza at The Crook Farm
Crook Farm Bank Bldg., 476 Seaward Ave., Bradford, PA 16701

Have any questions? Call Howard at (814) 368-4057 or email him.
---
---