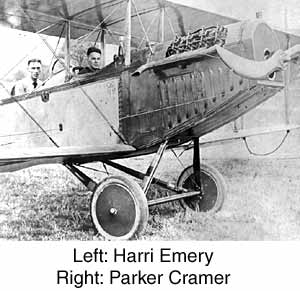 Parker Dresser Cramer
Bradford's Unknown Aviator

Known as "Shorty", he was short in stature, but big on dreams. Born March 1, 1896 in Indiana, Parker Dresser Cramer and his family moved to Bradford after the turn of the century, where his uncle, Solomon Dresser, was making a fortune as founder of the Dresser Manufacturing Industry. He was truly one of the first aviators in the United States, and held US Pilot's license No. 4, yet his tragic death is all but forgotten in the history of Bradford.
Parker Dresser Cramer was named after his grandfather, Parker Dresser, Solomon's father. He was raised at 37 Sanford Street, and early in life dreamed of piloting his own airplane into the skies around the city. He graduated from Bradford High School in 1914, a classmate of Harri Emery, and became a good friend, both of them fascinated with the growing popularity and possibility, of flight.
After graduation, Cramer traveled to Hammondsport, NY, and Buffalo, where he found employment with the Curtiss Aeroplane Company, and where, in 1919, he designed, built, and flew the smallest man-carrying aeroplane in the world - 12-1/2 feet long, with an 18-foot wingspan, and a two-cylinder, two horsepower motor. He and Harri Emery were the first men ever to land an airplane in Bradford - landing on the B.F. Hooker Farm across from the present day Crook Farm on July 4, 1919. But while Emery was content to stay in Bradford, and build his "!TravelAir" business, Cramer longed for wider vistas.
In 1920, Cramer moved to Clarion, and founded "Cramer & Bartow", and that summer, Cramer and his brother Bill, also an enthusiast, became one of the first fixed-based aeronautical operators on the first Air Mail route in the US, from New York to Cleveland. In 1921, Parker Cramer thrilled onlookers when he flew under the bridge that crossed the Allegheny River at Kittanning, PA. In 1925-1928, Cramer and his brother founded the Cramer Flying Service, servicing all Air Mail flights, and appearing at various county fairs, offering passenger flights, as well as stunt flying and parachute jumping.
By August 1928, Cramer was ready for adventure. Jointing Bert Hassell, of Rockford, Illinois, another experienced flyer, a flight was planned across the Polar Regions, linking Rockford with Stockholm, Sweden. The aviators hoped that the flight would prove that the "Great Circle" route would be the most practical and safest route to Europe. Although the flight started out with great promise, the two pilots ran into trouble over Greenland, when, unexpectedly off course by 400 miles, they flew on, hoping to rendezvous with a University of Michigan Meteorological Expedition base, located along the coast. They brought the plane down at the head of a large fjord, having flown 2,600 miles in 26 hours, and estimated that the Expedition site was still 60 miles further north. Taking a gun and some food, Cramer and Hassell started out, figuring two days hike. It took 15. During that time, food ran low, Cramer fell into a crevice and was rescued by Hassell, and they kept walking. Finally, in the distance, a small boat appeared. It was an Eskimo, who saw their smoke, and notified the Expedition camp, which arrived with help just in time. There was no hope of salvaging the plane, and the two dejected, but rescued flyers, returned to the United States.
Just three years later, another opportunity for adventure appeared. Cramer was chosen to pilot another attempt at the "Great Circle" air route, this time over the Arctic Circle, trying to reach Copenhagen from Detroit, flying through Canada, Baffin Island, Greenland, Iceland, and the Shetland Islands. This plane was equipped with pontoons, and Parker Cramer and his new co-pilot Oliver Paquette were on their way. Reaching the Shetland Islands, they stopped to refuel, then took off again, on the morning of August 9, 1931. Late that afternoon, a message from Cramer was heard - "I can see the coast of Norway". It was the last message ever received. Cramer and Paquette were never seen or heard from again. It is believed that they crashed into the sea somewhere between Lerwick in the Shetland Islands, and Norway. Nearly a month later, the wreckage of the plane was found several hundred miles away in the North Sea, and five months after the crash, Parker Cramer's briefcase containing letters, his maps, and licenses was found by a Dutch fishing boat, 25 miles southwest of Stavanger, Norway, in the North Sea.
His mother, Fanny, who had hopefully awaited his rescue a second time, was heartbroken. Cramer was eventually elected into the Aviation Hall of Fame at Glen Hammond Curtiss Museum in Hammondsport, NY, the second man to be so chosen. William Piper, also of Bradford origin, was the first.