History of the Farm
---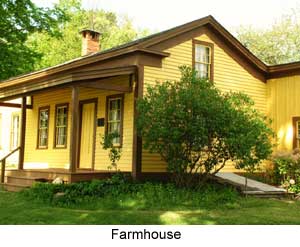 The CROOK FARMHOUSE stands where it was constructed in 1847, some 165 years ago. Whether or not it was built by Mr. Crook, who purchased the then 80-acre farm after moving here from New Hampshire with his wife Betsy, is uncertain. It remained in the Crook family for four generations, a span of nearly 125 years.
The living was hard for the Crook family. Not until the Olmstead well was drilled on farm property leased out by Mr. Crook, about 1875, was he able to pay off his debts and repair the house.
The Society purchased the farm in 1974. The house, probably the oldest dwelling in the Bradford area, was accepted on the Pennsylvania Register that year, and on the National Register of Historic Places the following year. It has been restored and furnished in the period of the 1870s.




---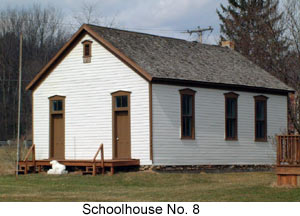 SCHOOL HOUSE NO. 8 was built 1850 (or 1889) at West Corydon Street Extension and moved to the Crook Farm in 1975.


---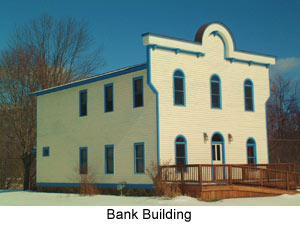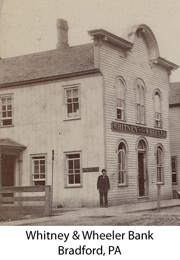 The BANK BUILDING was constructed at the Farm site by Friends of the Society. The facade is similar to that of the Whitney & Wheeler bank. The former postal cage from Russell, PA and a large old Cary safe are housed in the two-story structure. It is used as a Society meeting place, craft shop, rainy day refuge & classroom for student visitors, and Old Time Music and dancing.












---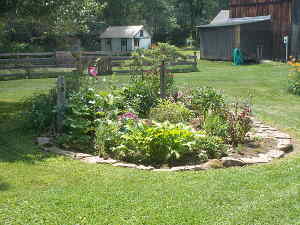 Another beautiful flower bed brought to life by Dick and Linda Brocious.
---
---
TOURS:
The Farmhouse, Carpenter Shop, Barn and School House No. 8 at the Crook Farm site are available for tours by appointment only during the summer. Please contact us at least one week prior to the date you plan to visit so we have sufficient time to arrange for a volunteer.
Contact us by: email.
By telephone: (814) 362-3906 at the Herbig Bakery Headquarters. We have an answering machine.

By mail:
PO Box 1021 (Effective September 2016)
Bradford, PA 16701
Photos: Bank Building , Farmhouse & Schoolhouse by Nick Distrola, Flower Bed by Yvonne Cattoni, Whitney & Wheeler from a stereoscope.